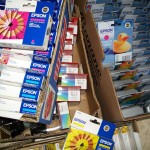 Clearance stock toners
Set of cartridges for printer toners and inks from major brands
Clearance of a lot with 252 cartridges consisting mainly of toners and inkjet printer.
New products in their original wide known brand from packaging: Canon, HP, Epson etc. … The public value of the whole is about 5000 euros
Asking price: 1,250 euros HT is only 4.96 euros / unit.
The goods are packaged on pallets and effectively sent by courier.
Hot deal on.
For further information please contact  the sales department at 02 46 56 50 40 or by e-mail