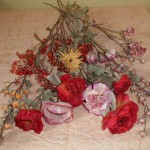 High quality artificial flowers clearance offer.
The latter consists of a batch of 10,000 beautiful bouquets of artificial flowers, consisting of Lys Roses, Crocus Daffodils, of Coqu. Petunia Daisies sweet peas etc … we offer 18% of retail price.
Several models are available and dimensions of 38-56 cm in height and width 35 to 54cm.
You will find some pictures as attachments such bouquets and do not hesitate to contact us to ask precise listing.
For inquiries, please contact the sales department at 02466555 30 or by e-mail:  contact@grossiste-bazar-solderie.com to receive photos and detail.
Large wholesaler destocking Import-Export
PALLET SOLDERIE