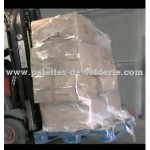 Bulk pallets :
Enjoy lots of new arrivals discount store pallets in tractor trailer composed of very diverse products, from the end of series, unsold, for withdrawal.
The range of discount store contains mostly bazaar, textiles, linens, clothing for men, women & children, household appliances, tools, decorative items and many more …
A brief description of the contents of pallets discount store:
For example, there are pallets solderie containing:
- Bazaar, decoration, fashion accessories, ready to wear item for the home, tableware, ornaments, school supplies, decorative object, linens, appliances, tools, gardening, games, multimedia, IT,
lighting, car accessories, Power, DIY, lot of paint, textile, jewelery and hair accessories, shoes, luggage, leather goods …
Each palette contains an average discount store an amount of 800 to 1000 items.
Unit Price HT departure: from 165 euros HT palette solderie
To request a quotation please contact our sales department by phone at (33) 02 466 555 30 or by e-mail contact@grossiste-bazaar-solderie.com
Possibility of organizing delivery trailer and container to any destination in export.