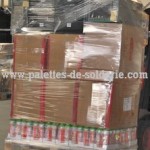 clearance items : pallets 's goods stock
« The best shortcut to a wide range of
products for the best price «
Unlimited amount of articles on pallets,
very varied composition, in reference
in the following categories:
bazaar, wines, food, clothing,
decoration, toys, cosmetics, furniture,
tools etc ….
All products in the world of discount store.
These products address all
discount professionals and are
even become indispensable for
ensure the greatest success
a new sign, with less
investment cost.
The value price of pallets:
2500 euros on average and up
6000 euros the pallet.
Our price fixed ht: € 195 / pallet,
with a minimum of 30 or more pallets
or a full truck. Price starting with
possibility of delivery.
The purchase price is only 5850 euros HT for a truck
trailer full, or less than 10% of the retail price.
For further information please contact us on 02 46 56 50 40 or by
e-mail: contact@palettes-de-solderie.com
Online wholesaler: www.palettes-de-solderie.com
Import-Export Supplier