Stock Clearance merchandise on pallets

: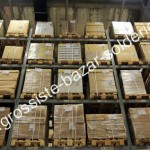 Lots of large stock of general merchandise pallets (about 1,500 pallets discount store) very heterogeneous composition in multitudes categories:
bazaar, tools, decoration, hygiene products, small appliances and much more …
All products essential to the activity of a discount store.
Ideal for all professional discount, exporter or wholesalers, resellers or … fairground.
This lot are an excellent value compared to the market price report. Rates from 189 euros / palette to a minimum of 90 pallets.
Pallets primarily from litigation transport.
Minimum sale by trailer or 40 'container
To request a listing on the National or export, please contact the sales department on (33) 02 46 56 50 40 or by e-mail.
Wholesale: www.palettes de solderie.com
Supplier Import-Export
Fournisseur Import-Export
PALETTES DE SOLDERIE
39, rue de La Ville Chapet
22440 PLOUFRAGAN – FRANCE – Tél.: (33) 02 46 56 50 40/ Fax : (33) 02 46 56 50 41
Palettes de Solderie le grossiste spécialiste à l'attention des professionnels discounters, fournisseurs, revendeurs, importateurs, soldeurs, forains, exportateur…