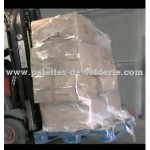 Clearance pallets wholesalers :
Liquidation of a large batch of 1,500 pallets solderie composed of various goods, from litigation transport and stocking.
These palettes contain essentially the bazaar discount store, appliance, machinery, appliances and electric motors and many more …
Here is a brief description of the pallets:
For example, an overview of the articles which may consist of pallets after some operation of them, so it is found:
- Bazaar, decoration and various …
– appliances, lighting, electric motors, car accessories
- Garden tools, hardware and fasteners, power tools, DIY, lot of paint, accessories …
– textiles, jewelry and hair accessories, shoes, luggage, leather goods …
Each pallet contains an average quantity of 800 to 1000 sections.
Unit price from: from 209 euros
To request a quotation from the  sales department , please contact us by phone at (33) 02 466 555 30 or by e-mail
Possibilité d'organisation de livraison en semi-remorque et en container pour les expédition en import-export
Palettes de solderie est le grossiste exportateur pour tous les professionnels soldeurs, importateurs, revendeurs, discounters, forains….