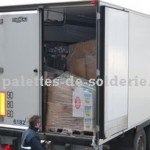 Clearance pallets : discounter pallets
Enjoy discount store pallets composed of various goods coming from the French market
Many categories make up these new products pallets: bazaar, decoration, machinery, textiles, small appliances … All products in the world of discount store.
Whether discounter, dealer, discounter, exporter, wholesaler, showman … you'll find everything you need for less.
THE sale is made by at least 30 pallets, a semi-truck or by container 40 « .
We also arrange delivery to any destination, nationally and internationally.
Since 2004, our business is growing strongly. We're offering our experience.
For inquiries, please contact our sales department on 02 46 56 50 40 or send us an email: contact@palettes-de-solderie.com
Online sale: www.palettes-de-solderie.com