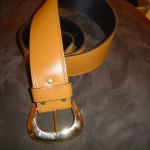 You can find attached an exclusive offer through a destocking beautiful belts (60% leather) Italian manufacturing you find some representative pictures as attachments.
We offer this opportunity by 1000 pieces minimum prorated depending on the model, for men, women and children, about 100 different models per batch. (Regarding children models, they are printed cartoon series characters).
Stock available today 100,000 pieces, over 1000 models.
Unit price ht asked: 2,30 EUR price from our warehouses.
Do not hesitate to contact our commercial service.